Belong With Us
Our Power is in our Differences
The AESO believes diversity of thought and background creates a stronger, more creative workplace that delivers innovative, high performance results.
Inclusion happens when people with different human identities feel valued and have a sense of purpose within a given setting. It puts the value of diversity into action, creating a sense of belonging and respect where ideas, experiences, and backgrounds off all kinds are all leveraged to drive innovation and create business value.
Inclusion & Diversity Statement
Our power is in our differences. We recognize the intrinsic value that our diverse employee population brings to our organization. We foster an inclusive, safe and productive environment that allows our employees to thrive and be their best.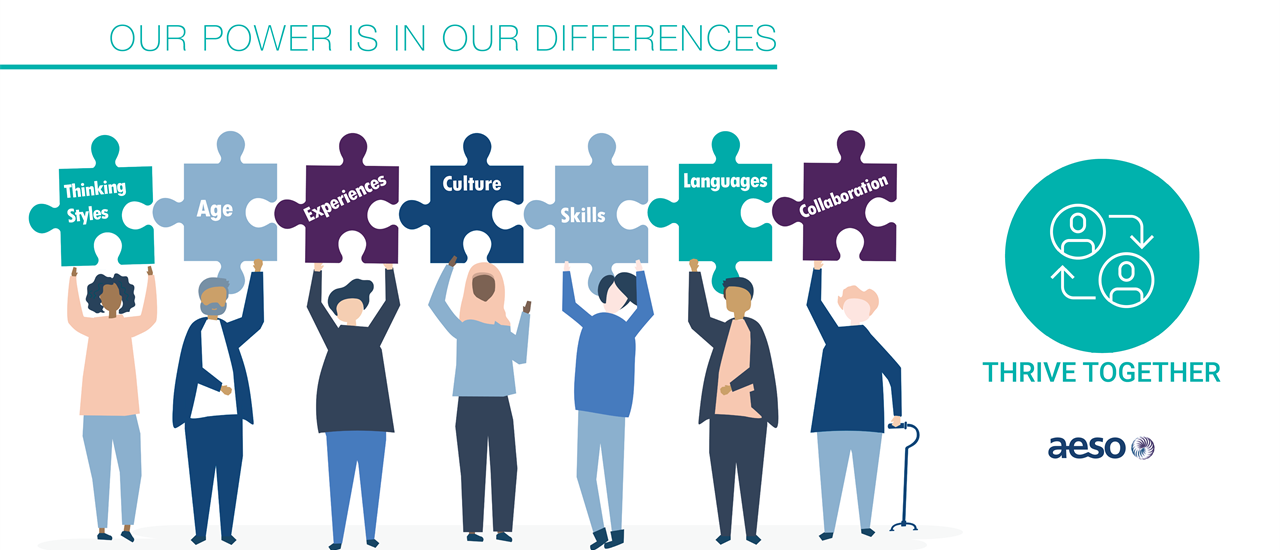 Inclusion & Diversity Council

Our Inclusion & Diversity Council (IDC) is a governance council intended to set the direction for the inclusion & diversity roadmap and has oversight of AESO Employee Resource Groups (ERGs).

Inclusion & Diversity Partners


Employee Resource Groups
Our employee led Employee Resource Groups (ERGs) foster inclusion & diversity, promote employee engagement, and serve as a resource in shaping & influencing inclusion & diversity initiatives.
Powered Up Parents

Connecting and empowering parents at the AESO.

Powered Up Parents core objectives are to:

Provide a support network for working parents at various stages of parenthood, facilitating work life integration at the AESO.
Build inclusion in all stages of the parenthood journey.
Create a welcoming place for parents to respectfully discuss all sorts of child-raising topics without prejudice.
Establish and maintain a community of learning and knowledge sharing while expanding personal networks at the AESO.

Amp it Up

Amplifying women's careers at the AESO through the power of connections.

Amp It Up's core objectives are to increase cross-functional networks by:

Expanding members' knowledge of AESO business.
Developing members' as both mentors and mentees.
Advancing members' personal development in career advocacy and in work/life integration.