AESO Technology Summit 2021
This event will take place virtually and will highlight a spectrum of technology in our industry and will feature several presentations from external experts and a keynote address from Bernard Lebelle.

Conference recordings
Keynote: Bernard Lebelle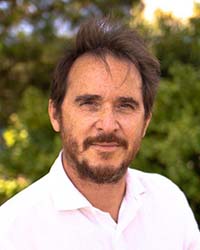 Bernard Lebelle is the CEO & Founder of The Green Link (Montreal)
Connects 2020 Revelation Award for its innovative and pragmatic approach to Sustainability Strategy (Canada, France, USA, UK, Dubai, Brazil).
The Green Link offers "Sustainability as a Service" to help organizations achieve their sustainability goals faster by leveraging AI-enhanced expertise, best practices & Clean technologies.
Senior Innovation Leader (more than 25 years of international experience in major consulting firms) recognized for his creative ability to solve complex problems, Bernard helps business leaders exploit strategic synergies with emerging technologies.
Bernard is an expert for the World Economic Forum and was previously the National Innovation Director for Deloitte Canada/member of Deloitte Global Innovation Executive Committee.
Bernard also hosts conferences for academic institutions and corporate events.
A serial entrepreneur, he previously founded Bleu Cobalt (innovation consulting) and Evidency (Fintech in compensation management).
Speakers
Travis Gaede

City of Calgary

Travis Gaede is a Senior Transportation Engineer with the Strategy Division of Transportation Planning at The City of Calgary. A graduate of the University of Calgary's Faculty of Engineering, Travis has worked in municipal government for twenty-three years in a variety of transportation-related roles. Having recently completed a multi-year assignment as the lead author for revisions to The City's strategic Calgary Transportation Plan, Travis currently stewards The City's Electric Vehicle and Low-Emissions-Vehicle Strategy and associated implementation initiatives.

Amir Motamedi

Smart Wires

Amir Motamedi is currently the General Manager of Canada at Smart Wires. He is a power systems leader and expert with over 15 years of experience in power system planning, operation, and economics in different companies. He holds a Ph.D. degree from the University of Calgary in Electrical Engineering, where he has been an adjunct professor with the ECE department for the past nearly 10 years. He holds a professional engineer designation with APEGA. Amir is a senior member of IEEE. Amir has published 14 peer-reviewed technical research papers with over 500 citations on power systems area.


Steve Kehoe

BMO Capital Markets

Steve has worked in the energy industry for more than 15 years, beginning in Production and Exploitation roles before moving into Energy Banking. For the past 11 years, he has worked in A&D Advisory at BMO Capital Markets evaluating E&P assets and building full-field development plans for a variety of clients, with valuations ranging from less than $100 MM to multi-billions. Steve has a B.E.Sc. and M.E.Sc in Mechanical Engineering from Western University, is a Fellow at the Energy Futures Lab, and was also a commercial pilot.
Charity Speakers
Cassy Weber, CEO, M. Ed Tech., M. TBDL (cert), BCom.

MindFuel

25 years in wireless & mobile software product development and innovation, and technology start-up companies, with deep experience in developing award winning products & services. Studied Commerce, Science, and French at UBC, UWaterloo, and Universite de Montreal, respectively. Also, Graduate Certificate in Technology-Based Distributed Learning, UBC, and a graduate degree in Education Technology, UBC, and the Canadian Securities Course. Ms. Weber's current area of research focuses on understanding how e-technology can support diversified learners. She has co-authored numerous conference papers summarizing research insights into digital learning management systems as a means to support diversified learners.


Dr. Murray Lytle

Light up the World

Light Up the World (LUTW) has been a registered Canadian charity since 1997. The organization was founded by Dr. David Irvine-Halliday - an engineering professor at the University of Calgary - and his wife Jenny who, on a trek in Nepal, recognized that a small solar panel and LED light, replacing candles and kerosene, would provide sustainable, less costly and healthy lighting to the Nepalese villagers they met. The light packages they made through LUTW have since been sent to 54 countries and impacted the lives of over 1 million people.